WE FEED THE WORLD TOURS MEXICAN COMMUNITIES
We Feed the World photos that were gifted to the community of San Isidro have been been touring some amazingly strong and resilient Mexican communities and events, accompanied by Gaia's Thomas Takezoe. The community of San Isidro who participated in the project and our partner, Collective For Autonomy (COA – who accompany many Mexican communities in legal battles to defend their territory), have been travelling to several meetings and events in solidarity with other communities and to share their experience of fighting against the invasion of their communal lands by multinational corporation Amway-Nutrilite.
JALISCO REGIONAL FARMERS' MEETING, PALOS ALTOS, JALISCO
Eva Robles, lawyer from Colectivo COA and representatives of San Isidro attended the regional Jalisco state meeting of farmers at the Civil Association, Caracol Psicosocial in Palos Altos, Jalisco. There they discussed the regional issues that farmers and communities are facing and passed on their message to take to the National Assembly of the Network in Defense of Maize. David Sanchez, psychologist and founder of the collective of Caracol Psicosocial is fighting the spraying of pesticides from airplanes in his town. The collective provide all manner of horticultural and other workshops to the town's youth, as well as free psychotherapy to the townspeople.
NATIONAL ASSEMBLY OF THE NETWORK IN DEFENSE OF MAIZE, SAHCABCHEN, CAMPECHE
Representative of Gaia, Thomas Takezoe accompanied COA and San Isidro representatives to the national meeting of the Network in Defense of Maize in Sahcabchen, Campeche. The network of hundreds of farmers, associations, indigenous communities and NGOs came together to help each other in their struggles to defend indigenous varieties of corn in its place of origin, as well as the defense of territory and community. During the three day event, San Isidro representatives, who hosted this large event two years ago in their town, exhibited photos of their community and of 30 other communities from We Feed the World. Read more here…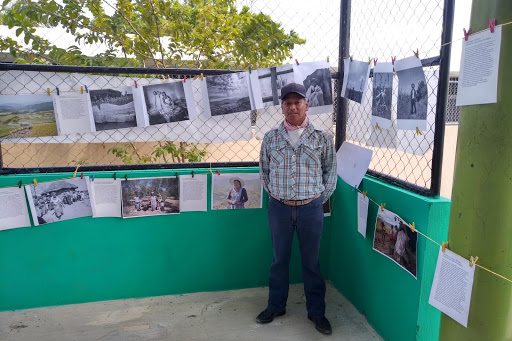 MEETING OF DIOCESE OF CIUDAD GUZMAN, JALISCO
Eva Robles from Colectivo COA took the We Feed the World photos to Ciudad Guzman, Jalisco where she participated in a meeting of the Diocese of Ciudad Guzman and various groups and communities from the area. The Diocese of Ciudad Guzman, with a strong participatory and emancipatory community theology has been one of the principal actors in the area initiating ecological and social projects. The diocese has been fundamental to the growth and establishment of an organic movement and farming in the local area.
LA CIÉNAGA
The community of La Ciénaga in Jalisco and COA organised an exhibition on the 31st May, during the town fête. Students from the nearby Autlan University and other people from many of the surrounding towns up to two hours away came to see the exhibition. During the celebrations, the photos were on display in the main square where everyone passed through. Eva Robles from COA gave a talk on who really feeds the world.
Rodo, a farmer from La Ciénaga who helped organise the exhibition said, "The exhibition complemented the activities of the fiestas and drew more than a 100 people to contemplate the photos and their stories on the main day. Many people from the village noted how our peasant culture is being lost and that those who still work the land deserve proper recognition for their work. The event brought together many people and created many links. The Director of Culture for the municipality came to the event and proposed to take the exhibition to every community within the municipality. I now also have several biofertiliser workshops to give in neighbouring communities."