British farming is in flux, yet central to the most critical issues of our time: it is at the heart of nature recovery, community cohesion and climate resilience. We Feed The UK will grow support for the practices that can heal these crises, through a radical re-storying of regenerative farmers as custodians of biocultural diversity across our isles. This celebration of regenerative agriculture, through an innovative, diverse and rich campaign, will be designed by The Gaia Foundation with strong regional flavour plated up by our partners.
---
THE LAY OF THE LAND
GROWING PAINS… 1% of the world's farms occupy 65% of agricultural land. In pursuit of growing profits, these multinational, industrial corporations are displacing people, destabilising our climate, driving deforestation, devastating biodiversity and damaging public health. Here in the UK, farming is in flux. The cost of living crisis has increased prices of fertilisers, diesel and energy, squeezing British farmers just as EU subsidies are coming to an end. Post Brexit, the government is debating trade deals, genetic modification, and financial support through redesigned Environmental Land Management schemes. And on the ground, Britain is now one of the most nature-depleted landscapes in the world. The time is ripe to nurture a just, equitable, diverse food system that nourishes people and planet.
A FRESH START… Worm charmers, wildflower whisperers, carbon capturers, insect allies: regenerative farmers are working with nature in a time-honoured team. Regenerative methods often start with restoring soil, but extend to a host of holistic practices with benefits that include cooling our planet, reviving the web of life, repopulating rural places and stimulating local economies.
FIELDS OF OPPORTUNITY
ROOTS… We Feed The UK is rooted in the success of 2018 storytelling campaign, We Feed The World – the biggest ever global photography initiative to explore our food systems. 300 portraits of regenerative farmers were taken by renowned photographers including Rankin, Martin Parr, Graciela Iturbide and Rena Effendi. They were showcased internationally in influential media such as National Geographic, and across 50 exhibitions, from London's Southbank Centre to strawbale barns. As a result, 55 million people stood face-to-face with the folk who feed 70% of the world using less than a quarter of its agricultural land, debunking the myth that we need intensive, industrial farming to survive.
NEW GROWTH… For We Feed The UK, a network of partners will commission socially engaged photographers who have the power to change our perspective, and performance poets who can cut through the noise. They will capture stories of regenerative farming from ten areas of the UK, for a nationwide campaign with local impact. With humankind distanced from nature, biodiversity collapsing, farmers often villainised, and greenwashing rife, We Feed The UK is a time-critical storytelling campaign, crucial for collective growth.
A RECIPE FOR CHANGE
ARTS PARTNERS… Our arts partners will commission photography from some of the most critically acclaimed and hotly tipped talent, for exhibition in 2024. This decentralised approach to commissioning and showing work recognises the regional expertise of these partners in reaching and engaging diverse audiences, including the Martin Parr Foundation, Belfast Exposed, GRAIN Projects, Multistory, North East Photography Network, Open Eye Gallery and Photo Fringe.
ENVIRONMENT PARTNERS… Each farming story will illuminate a key regenerative practice, supported by evidence from an aligned not-for-profit partner in the environmental sector, including the Nature Friendly Farming Network, Soil Association, Sustain, Soil Association, Landworkers' Alliance, Action for Conservation, Sole of Discretion, Sustainable Food Trust and Gaia's UK & Ireland Seed Sovereignty Programme.
CREATIVE PARTNERS… The award-winning Hot Poets collective will add diverse dialects to the mix, to tell the stories of these photographer-farmer collaborations through performances online, on the radio and on the ground. Communications experts, Glimpse, will create a teaser campaign to start the conversation, across £100,000 worth of pro-bono advertising on billboards across the country thanks to space donated by Ocean Outdoor.
THE FRUITS OF OUR LABOUR
We Feed The UK is an ambitious storytelling campaign, revalorising regenerative farmers as custodians of British biocultural diversity. It will:
• Inspire neighbouring 'on-the-fence' farmers to transition towards regenerative practices, grounded in expert advice from our sector partners
• Nurture grassroots support from UK citizens, cultivating our connection to local food through accessible exhibitions, calls to action and positive media coverage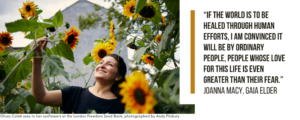 THANK YOU TO THE PARTNERS ALREADY MUCKING IN