To mark the close of the We Feed the World in Frome in Somerset, for one week only, from Friday 3rd September to Friday 10th September, prints by globally renowned photographers featured in the much-loved food and farming exhibition will be made available for sale.
Photographers included in the sale are: Tina Hillier, Sophie Gerrard, Martin Westlake, Holly Lynton, Nick Ballón, Laura Hynd, Kate Peters and Hannah Reyes Morales.
We Feed the World is a global photographic exhibition sharing stories of smallholder farmers and fisherfolk from 50 farming communities across six continents. This is the first time ever that any of the prints have been available for sale, and we're delighted that some of the proceeds will go to support our work globally with smallholder farmers and fisherfolk.
The sale selection reflects a diverse array of landscapes and cultures, styles and compositions. Laura Hynd's ethereal style captures the movement and vivid colours of wildflowers in Ibiza, whilst Nick Ballón captures big, bold landscapes with dramatic light streaming across the Andes mountains in Bolivia. There are also some of the best-loved portraits from the show available.
The prints will be available to buy online via Otter Prints in three sizes, starting at £80. Smaller priced items including packs of postcards from the show and an exclusive tote bag designed by printmaker Rosanna Morris are also available.
To celebrate the work of those featured in the sale and the incredible farming communities that their images shone a light on, we've featured a selection of the works and stories below.
---
Zuzana Pastorkova from Slovakia, photographed by Tina Hillier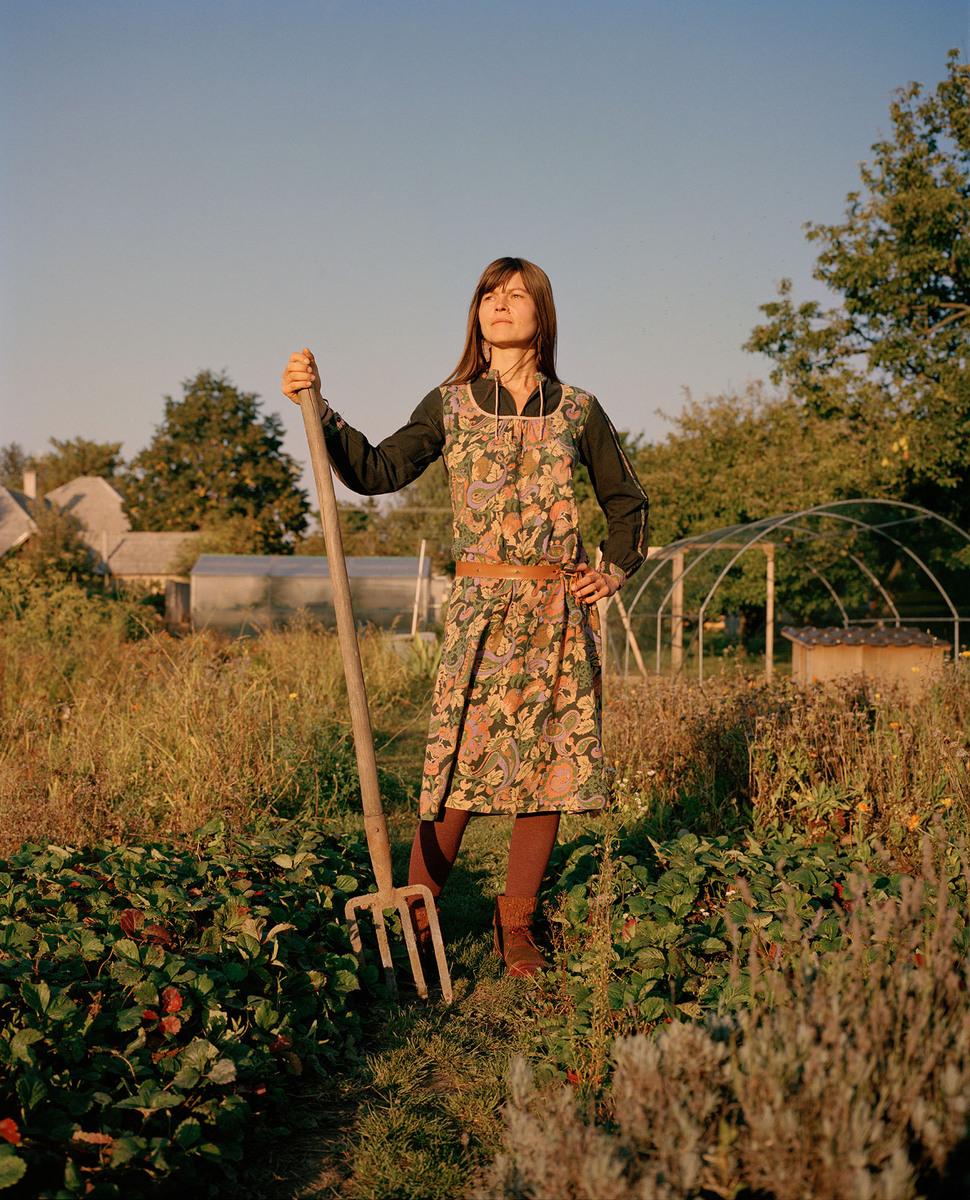 Zuzana Pastorkova cultivates 40 different varieties of vegetable, ten herbs and many different types of fruit tree. When harvested they are packed into boxes and feed around 40 families in the region. Seventy percent of this food is grown from seed that has either been handed down to her by her family or she has sourced from her travels. The garden's secret hero's, however, are its six Indian Runner Ducks who keep the slugs and snails down by feasting on them.
Tina Hillier is a portrait and documentary photographer based in London. Her clients include some of the world's leading publications, NGOs and commercial brands and she has twice exhibited at the National Portrait Gallery, London as part of the Portrait Prize exhibition. Her work largely focuses on community and sustainability.
View Tina Hillier's Prints for Sale
---
Guillermo Ferrer from Ibiza, Photographed by Laura Hynd
Guillermo Ferrer's 17-hectare farm, Sa Torre D'es Xebellins, is situated in the south-east of Ibiza, just outside Ibiza town. Guillermo was born on the farm in 1956 but later left, unaware how the fortunes of the land had changed as tourism exploded on the island. Once an 'oasis of life', this was now a degraded, desert-like landscape. Determined to restore the diversity, bird song and abundance of his youth, Guillermo set about regenerating the land.
35 years later and his farm is buzzing with the sound of bees, with over 40 healthy bee-hives. There are over 300 fruit trees and the farm feeds over 250 local families who visit to collect their fruit and vegetables, eggs and honey daily and Guillermo shares his 'oasis of life' with students from around the world, looking to learn the skills of regenerative agriculture.
Laura Hynd is a photographer and world explorer, best known for her projects 'Lady Into Hut' and 'The Letting Go'. Based in the UK, she hosts a number of public and private seminars and lectures around the country and has won numerous awards for her work.
View Laura Hynd's Prints for Sale
---
Shannon Eldredge from Massachusetts, Photographed by Holly Lynton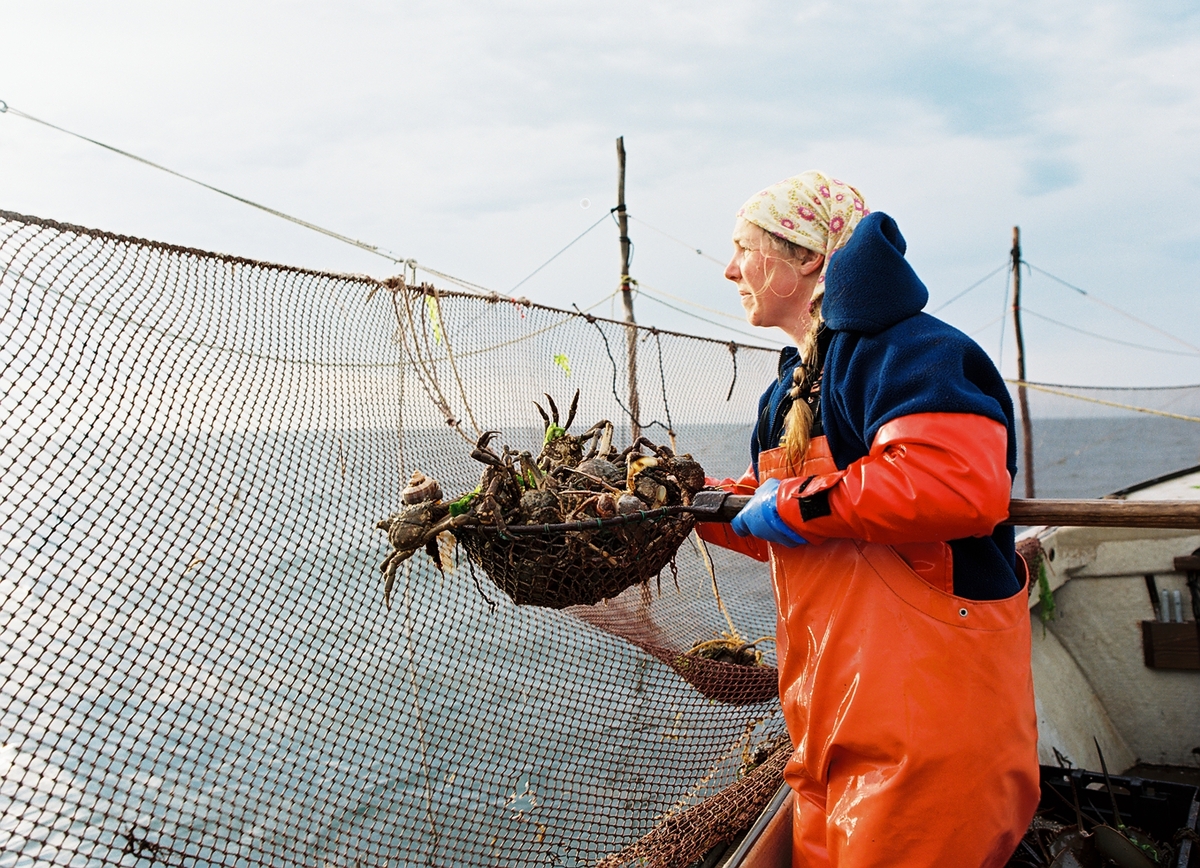 Shannon Eldredge sets up the fishing weirs that have been the source of her family's livelihood for three generations. The 45 foot long hickory poles that are driven into the sandy sea floor act like an underwater fence, redirecting the fish into a net where they can be harvested. Unlike the commercial boats that trawl the New England coast, traditional weir fishing is small-scale and respects the breeding season of the fish.
Holly Lynton's work is held at Yale University Art Gallery and the Center for Creative Photography at University of Arizona. Her photography explores people's passion for maintaining rural traditions and preserving natural resources despite the challenges of agribusiness, climate change, and technology. Lynton has been awarded the Aaron Siskind Individual Photographer's Fellowship (2016), and the Massachusetts Cultural Council Artist Fellowship (2013). Her series Bare Handed has been exhibited internationally.
View Holly Lynton's Prints for Sale
---
We Feed the World Tote Bag & Postcard Series
We're thrilled to have partnered with UK printmaker Rosanna Morris to feature her Land Workers Alliance calendar print for August on our exclusive We feed the World tote bag. The bag is available through the Otter Prints website alongside two packs of postcards featuring works from the exhibition. Choose between a series featuring the 'Seven Graces' by Omar Victor Diop, or the best-loved portraits from the exhibition, featuring two works from farmers and fisherfolk around the world.
Support Gaia with a Bag or Postcard Purchase
With thanks to The Whittox Gallery, Gallery at the Station and Otter Prints.